Colour of Summer - Adventure of a life time
Colour of Summer is Dock & Bay's 2018 campaign where six brand ambassadors who live the 'Dock & Bay' active lifestyle with a love of travel and outdoors, were flown to Bali for a one-week adventure they would never forget!
We wanted to find everyday people that share the same fun loving, adventurous attributes as us. Whether you're a seasoned traveller or just have a pinterest board filled with globe-trotting dreams, as long as you can show us that you and your best friend would fit in with the Dock & Bay brand, then that's all that matters.
Day 1 - The Ambassadors arrive
With the Dock & Bay team and our influencers settled into the Colour of Summer villa, the morning was spent preparing for our ambassadors' arrivals.
Andy & Benno were tasked with heading to the supermarket to stock the villa bar (and kitchen) ahead of the welcome night (a very important job!) While our influencers stayed behind, using the opportunity to capture content for their blogs amongst the stunning villa surrounds. 
Our ambassadors arrived mid-afternoon and they may have been jet-lagged, but as soon as they reached the villa they were straight in the pool! After all, a swim is not only the perfect way to freshen up, it gave our ambassadors the chance to start using their Dock & Bay towels straight away.
The amazing Dock & Bay villa
Aiden & Keely arrived first from Sydney, Australia
Jennifer & Preethi arrive from Mumbai, India
Lisa & Matt arrive from Vancouver, Canada
Fun in the pool (with plenty of quick drying colourful stripey towels of course!)
With dinner in the hands of our in-house chef, Dock & Bay's resident bartender (our very own Benno) made a round of drinks and we settled down for an evening of Andy's famous ice-breaking activities.
After all the fun and games our new ambassadors headed off to their rooms for a good night's sleep ready for the fun filled week ahead. First up is a bike ride through the rice fields of Ubud tomorrow morning.
Day 1 - Cycling Through Rice Paddies
The first full day of our Colour of Summer trip got off to an exhilarating start as we woke up our Ambassadors bright and early for a bike ride through rural Bali.  To add a splash of colour to this beautiful scenery and to wipe away the sweat from their adventure, the team each took their Dock & Bay Classic collection quick dry towels with them.
A breakfast of eggs and banana pancakes wasn't quite enough to stir our group from their sleep and there were some mild grumbles as we piled into the van (mainly from Andy – he's not an early riser). But as we drove out of Canggu and into the breath-taking scenery of Ubud, exhaustion turned to excitement.
Dock & Bay ambassadors cruising on the back of the truck. The Dock & Bay ambassadors are a truly awesome bunch! We've got Keely & Aiden from Australia, Preethi & Jennifer from India, and Matt & Lisa from the UK and Canada.
Cycling through the rice paddies, what an epic adventure!
First up was a stop off at one of the many coffee plantations that Bali is famed for. We took in the jungle views and tried a selection of Balinese coffee. Christian had the strong stomach to taste one of their more expensive coffees, known because the bean is eaten first by an animal called the 'Kopi Luwak' and it is then only roasted for coffee, having come out of the other end. You can picture it now, delicious.
We set off with Awesome Cycling Tours Bali who organised the day impeccably. All our bikes and helmets were organised on arrival, and there was a support truck the whole time for any cyclists who dropped out in the heat, and was also great for our photo & video content team to hitch a ride! (If you want to contact them you can also visit their Facebook group).
Aiden & Matt flying the Dock & Bay flag (literally) - Classic Uluru Red towel
Lisa loving her matching outfit and Sahara Orange Classic towel
Visibly brightened by the fresh air, we set off on our ride, taking in the lush greenery of the rice terraces, just a taste of the great views we'd get to experience for the rest of the trip. The team free-wheeled down the hills, barely pushing our pedals, stopping for a photo break in front of the rice terraces. Keely and Aiden our ambassadors from Sydney were naturals, with Keely cycling down the roads and amongst the mopeds with no hands with complete ease!
To get footage for our Colour of Summer video (keep an eye out for it) Alyssa and Danny, our resident videographers took it in turns riding on the back of a scooter. Alyssa taking handheld footage and Danny controlling his drone camera. Let us tell you, it takes some serious skill to control a drone whilst on the back of a scooter but as you'll see, it's definitely worth it.
A couple of hours later and our lunch stop in sight, we finished our ride with some freshly squeezed tropical juices and ice cold Bintang - completed with a refreshing swim at the waterfalls. Perfection.
If it's a sprint finish, I think Keely has edged Matt for the win!
Christian playing it cool, as per usual
Paige covering up from the sweltering Bali sunshine
"Look up mum" - Keely mastered the art of no hands from the moment we arrived
Jennifer and Preethi went further than planned, its wet and muddy in there!
Keely & Lisa balancing a fine line across the terrace
....and then someone had to fall in.  Lucky no injuries, just lots of laughs and great memories
The end of a hot & happy day.  The ambassadors living the Dock & Bay spirit - get out there!
Day 2 - Pool Party Fun
This was the day everything came together, our ambassadors and our full collection of towels, and our awesome new swim shorts made from 100% recycled plastic bottles!
We spent the day having a ball of fun around the villa. It was a big gang hanging out and having a great time. Water fights ensued. Mini games of football spontaneously started. Pool races ALL DAY LONG. Our camera crew were on hand to capture the action and, well, lets just say the Dock & Bay ambassadors were not shy one little bit.
Our Colour of Summer campaign is all about friendship, fun, adventure and those unforgettable holiday memories - we're sure you'll agree that our ambassadors live the essence of what Dock & Bay is all about.
The featured towels can be found at Cabana collection, Summer collection, Festival collection
We also collaborated with amazing eco swimwear brand emroce, which some of the girls are wearing. emroce makes zero waste swimwear using econyl regenerated nylon which is made in Italy from recycled fishings nets and other nylon waste - a brand after our own heart! Even better, each piece is handmade in Lago di Como Italy by Kiwi designer Emma Churchill. We are obsessed.  
Action captured! Matt leading the way in an epic photo
Keely & Moti battle it out. Who wins?
Jessica on her favourite rubber ducky. What is Andy doing?
Best friends Preethi & Jennifer with their Tomatina design Festival towel. Preethi wears 'Hey shorty it's your birthday rash' top by zero waste swimwear brand emroce.
Super-Moti & Bat-Christian
Lisa & Matt in a special one
Matt wondering why Lisa is jumping into the pool with a Rainbow Skies Summer collection towel
Keely & Aiden with their Songrkan designed Festival towel
Matt with his Phi Phi Pink Cabana towel
Lisa and Matt enjoying the sunshine
View of the action from afar, Preethi chilling out. 
Lisa & Matt with their Cabana Light towels (Tulum Blue and Narabeen Green)
Matt taking some time to recoup
Day 4 - Campuhan Ridge Hike in Bali
And we started walking. And walking. And it was hot, so so hot. The Colour of Summer team didn't complain though - they are made of sterner stuff, always up for an adventure, exploring new places, sharing fun experiences. As we walked, it was a no-brainer to stop at a swing with views over the jungle and the valley (no, not THE Bali swing, but a swing all the same). Everyone had a go and then we were off - next stop, a cafe in the rice paddies for refreshments and some fun.
The featured towels can be found at Cabana Light collection, and our brand new 2018 Festival collection
Matt always has his own way of doing things!
Made it to the Raditya Cafe - winning!
\
The Colour of Summer ambassadors, best of friends of course!
...and taking another moment
One of those classic moments when no one knows what is going on
Day 5 - Morning Yoga By The Pool
One of the best things to do in Bali is a bit of morning yoga. The island is teaming with expats who come to Bali as a yoga 'mecca' from all around the world. We thought it was the perfect opportunity to get out our yoga towels! 
The talented Irena Bartolec from Ashtanga Yoga Mumma came to our Colour Of Summer villa for an hour long class of long, slow Hatha Yoga. Starting with guided meditation and ending with a couple of minutes in Shavasana, our ambassadors were guided through a series of simple yoga poses. For some in our group it was their first practice, but for seasoned yogis Preethi and Jennifer, our ambassadors from Mumbai, the class was second nature. From bridge to warrior three, there was no pose too hard for these two.
The featured towels are from our Active Collection which come in 5 gorgeous pastel colours in a heathered 'marle' design. They are super soft, perfect for yoga and made from 30% recycled plastic bottles!
Now those are some good looking towels! (from Dock & Bay's Eco Collection of course) - our Extra Large size is perfect for yoga at 200cm / 78" in length.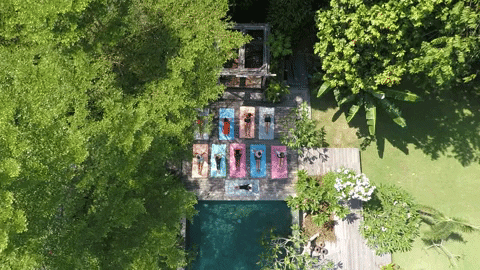 View from above - what a location for a bit of morning yoga in Bali!
The Colour of Summer gang, breathing, relaxing, taking in the surroundings.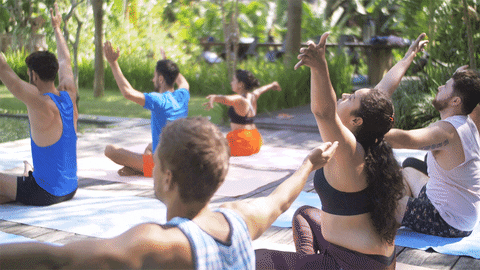 and breeeaaatthheee
A picture tells a thousand words, and this caption cannot add to it
Stretching out those hamstrings. Moti is doing particularly well right?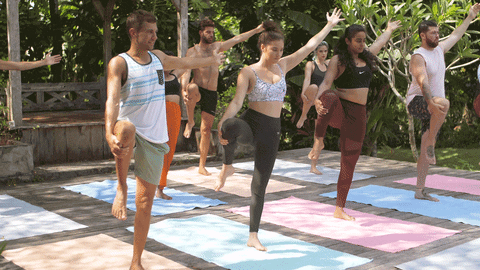 Matt and Keely (in the foreground) were not strangers to yoga, impeccable balance
Matt in deep concentration as he continues the back stretches
Keely took a dip in her full activewear get up
It's Matt vs. yoga instructor Irena!
End of the session and the team pack up their Active towels and yoga mats
Day 5 - That's a Wrap for Colour of Summer
All good things must come to an end and this trip couldn't have been any better! There were celebrations, hugs and tears as Colour of Summer wrapped up for 2018.  
And did you hear there were D&B tattoos?! Three of our Ambassadors (Aiden, Keely and Matt) and our Drone Videographer, Danny, got Dock & Bay tattoos on our last day in Bali. The group wanted a permanent reminder of the amazing time they all had together. What's better is that Andy & Benno had no idea - it was a complete surprise!
We spent our last night together at the Villa with an Indonesian feast, more D&B cocktails, some speeches and another surprise – a rap from Andy & Danny. 
Yes it really happened! The boys and Keely surprising us with their fresh tattoos.
Benno and Andy are never without a towel
So many group hugs were had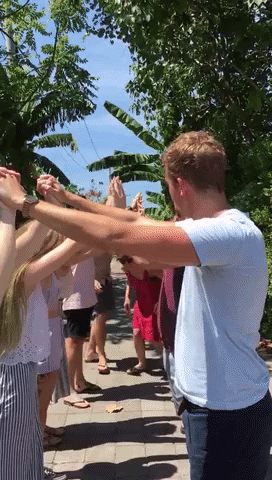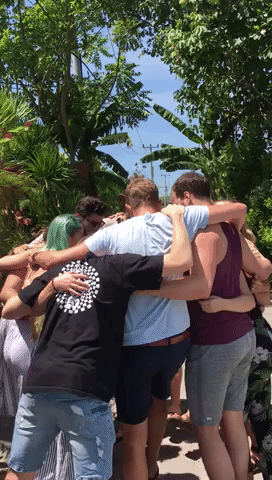 Can we say this was the best week ever! Can't wait for the next one! #colourofsummer 
---